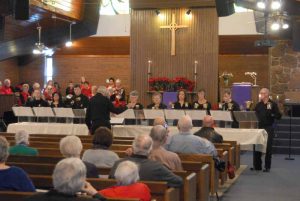 We're glad that you're planning to visit Good Shepherd. September through May, worship begins at 10 am, with adult education classes before hand at 8:30. During the summer, we worship at 9:30 am with no adult education.
Children are welcome in worship, and can either remain with parents in worship or join other children downstairs following the Time with the Children, where a craft and lesson relating to that mornings scripture are shared.
A nursery and childcare is available for infants and toddlers.
Following worship, we gather downstairs for a time of fellowship and conversation. Coffee and a light snack is served.