Sunday, AUGUST 15, 22, 29.
11:15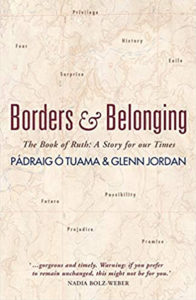 -12:30 ~  Lunch provided.
 Borders & Belonging – Challenging Barriers with the Book of Ruth
by Padraig O Tuama & Glenn Jordan
We are living in shouty times.  The pandemic has raised the decibels of public debate, as we bellow and bark at each other across social media.  And while we initially may have imagined that the corona virus would bring us together – and in some ways it has- in many ways our civic life has become more fractured and fragile.  The murder of George Floyd last year unleashed a well of public grief and a wave of protests that revealed a widened in political divide in the U.S. as did the Jan. 6 riot at the U.S. Capitol.  Perhaps amid all this noise and tumult, the quiet biblical book of Ruth has something powerful and profound to say, some reassuring balm and redemptive truth to offer our polarized world. In the skilled hands of gifted poet Padriag O Tuama and the late theologian Glenn Jordan, it's made new for our times.
In Borders and Belonging, these two Irish men offer the ancient narrative of a Moabite woman and her Jewish family, asking how "this apparently simple book situates itself at the very places where the tectonic plates of conflicted communities threaten to crack and split apart whole nations and societies."
This is a narrative that challenges us to practice radical hospitality, encounter the "other" with compassion, dismantle our stereotypes, rewrite our laws, reject aggression and toxic masculinity, and protect the vulnerable minorities in our midst.   If there is a book in the Hebrew Bible that most resonates in this moment, it may be Ruth.
In this class, we will talk about the book of Ruth and together explore such questions as: how do borders serve to define us?  How do they close others out? How can we use Ruth's story to examine where and how we belong, both to ourselves and with others? We will use supplementary texts – both Christian and secular and other sources of wisdom, such as art and poetry, to dig into these central questions.   Open to all & I hope you will attend!  ~ Pastor Sheri